Choosing the Right Material for Your Patio
Concrete
No one wants to look at a boring piece of concrete when sitting out on the patio. However, if you are adamant about using it, consider going with a stamped pattern complete with dye coloring to provide you with a more natural appearance. It's important that you understand the maintenance that comes along with this particular type of patio. You are going to have to reapply the coating every couple of years so it doesn't lose color. Surface cracks and fading color plague those areas that are used quite heavily. In zones where there isn't a lot of frost, concrete tends to be the most popular option.
Flagstone or Natural Stone
If you want a natural look, nothing can compare to that of natural stone. Multiple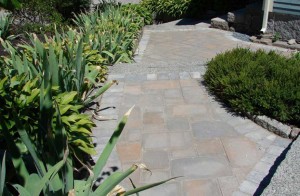 types of stone are available, such as limestone, bluestone, slate and flagstone. Natural stone is going to cost you a little bit more because of it being quarried and trucked in, so delivery costs are often factored into the total cost. It will also cost a little more to install because of the added time to lay the stone. Since each piece varies in thickness, they will all have to be put in place first, then lifted to make sure the bed is resting on even ground.
Pavers
Today, there are countless shapes, patterns and colors available for manufactured paving stones. High-end homes are sporting stone patios because of how amazing they make the space look. Pavers are a modular piece that is the same thickness, so they are easy to lay down. Due to the easy installation process, you will save money and time on your new patio creation. You can have circle patterns and curved shapes put into your patio to create a look that is unique and stunning.
Brick
Many people like the old world look of brick patios, but you have to remember there is a great deal of maintenance involved with this material. Brick will often retain moisture because of its porous nature. If you live in colder climates, it can end up cracking and have to be replaced. Shady areas could find moss growing on the bricks that will have to be scrubbed off with a brush and bleach. Sunny areas might not have as big of an issue with moss, but it will still have to be cleaned on a regular basis to avoid a dangerous situation.